There is no doubt that we all have a role to play in saving our planet and the word green always comes to mind when we speak of the eco-system. GreenGeeks, a web hosting platform, has a brand that echoes pride and principles around the green ethos.
While GreenGeeks has only been in business for about 12 years, the company claims that the "GreenGeeks management team has over 40 years of experience in providing high quality, affordable website hosting". 

To prove its track record and reliability, the web hosting company has won numerous awards which they also show case on their website.
GreenGeeks uses reusable energy which is what makes them outstanding in terms of being one of the world's leading green webhosting sites. They are "300% powered by renewable energy", meaning that they return three times the energy that they use.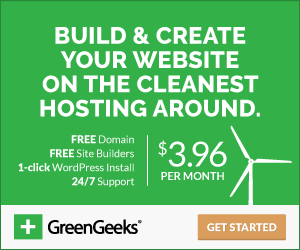 GreenGeeks is now a service provider to more than 50 000 customers and hosts more than 600 000 websites, and that is according to their website. This means that every year, they now return more than 615 000 KHW of energy.
They are economical and reasonable in that they allow an unlimeted number of domains in some plans which saves a lot of money for businesses and web designers, also saving the environment.
GreenGeeks also bring good public image because your website will be powered by 100% carbon neutral hosting and that adds on to the Public Relations campaigns of any business.